Table of Contents
STARTING OFF
By selecting START from the Main Menu you can access your main Talion Campaign story or any purchased Story Expansion content such as "Blade of Galadriel" or "Desolation of Mordor".

CONTROLS
| | | | |
| --- | --- | --- | --- |
| Action | PS4 | XB1 | PC |
| Attack | Square | X | Left Mouse Button |
| Counter | Triangle | Y | Right Mouse Button |
| Dodge/Jump | Cross | A | Spacebar |
| Run: Hold Wraith Stun Drain / Dominate: Hold | Cross Circle Circle | A B B | Spacebar E Key E Key |
| Wraith World | L1 | LB | V Key |
| Ranged: Hold | L2 | LT | Right Mouse Button |
| Grab | R1 | RB | L Ctrl Key |
| Stealth: Hold Map Pause | R2 Touch Pad (press) Options | RT View Button Menu Button | L Shift M Key Esc Key |
COMBAT
Attacking - Chaining attacks together will start a hitstreak. Many Character and Gear abilities are triggered by high hitstreaks. Successful attacks also fill your Might meter, which powers special attacks. You'll see a counter on screen to indicate your current hitstreak.
Defending - When surrounded by multiple enemies, use counter to block their attacks, avoiding damage and ensuring your hitstreak remains unbroken. It will also help prevent you from becoming overwhelmed. A counter prompt will appear above the head of each enemy about to attack you. Remember that you must press the counter button for each incoming attack. Multiple counter prompts require multiple counters.
Finishing - After an enemy has been hit repeatedly and knocked down, you can initiate a Ground Execution by crouching with R2/RB and pressing Square/X.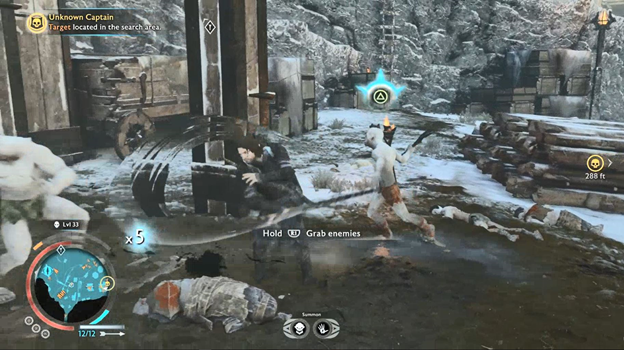 Skirmish - When larger enemies are around or even multiple Captains, facing everything head-on is not always the best approach. Use stealth and ranged attacks to infiltrate and clear an area before facing a harder enemy. And if the tide of battle turns against you, go vertical! Talion can climb nearly any surface or structure, removing himself from combat and buying time to heal or attack from a different position. Enemies can climb as well, though, so it's a good idea to keep moving. (Preferably while in stealth.)
Lastly, don't forget to use destructible terrain features! Grog barrels, beast bait, Morgai flies, ghul eggs and many other traps can be triggered to devastating effect by shooting them. While in ranged mode [L2/LT], destructible terrain features will glow a light blue. Pro tip: you don't need to charge your shot to trigger these effects.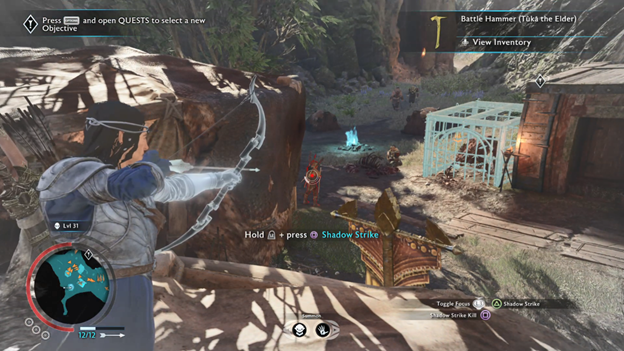 NEMESIS
If you played Shadow of Mordor, you'll know the Nemesis System is the backbone for most of the conflict in-game. The best place to start is through the Army option in the pause menu. From here, you'll see the enemy Orcs Captains who control the current region you're in.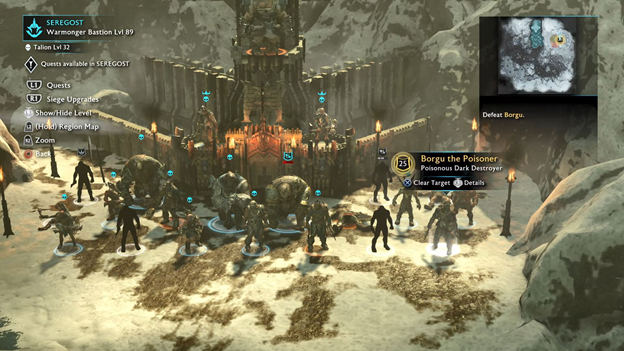 Let's start with Borgu the Poisoner who is in the Seregost region. Before battling him, we'll make sure we gain Intel to know his weaknesses by dominating a nearby Worm. These are indicated with a green diamond-shaped icon above their heads.


After interrogating the Worm, we've found the information we need to engage Borgu with confidence. In this case, we can strike fear into his heart by pinning his feet to the ground with an arrow from our bow as he has a "Fear of Pinning".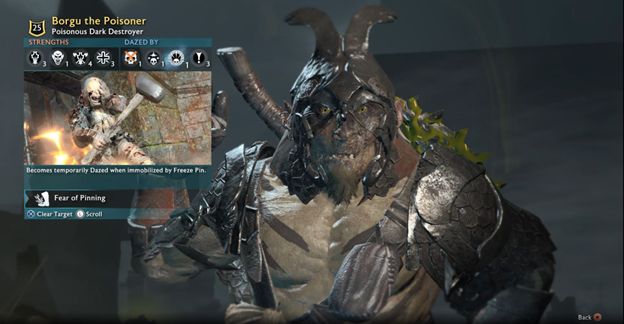 When a Captain becomes broken, the level icon over their head turns green, and now they are on the edge of defeat. You can choose to then kill them or you can Dominate and add them to your ranks. Keep in mind, if a Captain is a higher level than Talion, they will not be able to be dominated. You can lower their level by using the "Shame" option. His poison specialty can be a pain for our enemies, so we'll bring him on board. With Borgu now added to your army, you can command him from the Army menu or even make him our bodyguard.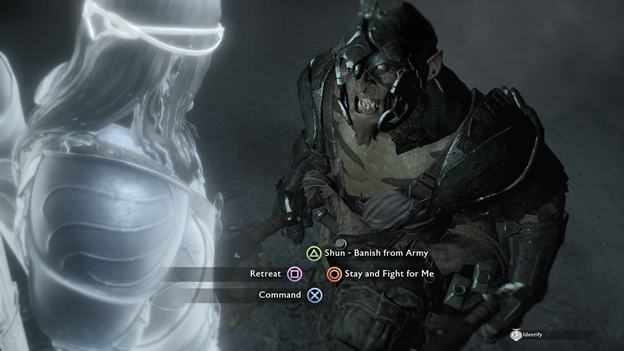 We can also spend Mirian to acquire Training Orders from the Garrison screen. Training Orders can be used to raise his level and stats, grant an elemental immunity or mastery, give him a gang or caragor mount, and many other buffs. We'll give him a Dire Caragor mount by purchasing a Dire Mount upgrade Training Order. We'll also increase his level a few times to improve his strength overall.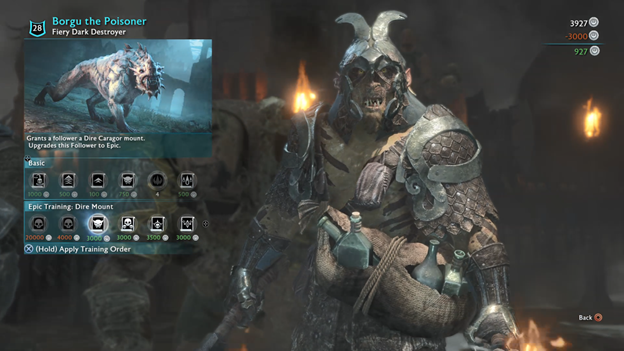 Be careful with who you invest upgrades in though… they may not be on your side forever! Borgu thought he could turn on us moments later. In an act of betrayal, he decided to surprise us during battle with the Dire Caragor mount we got him!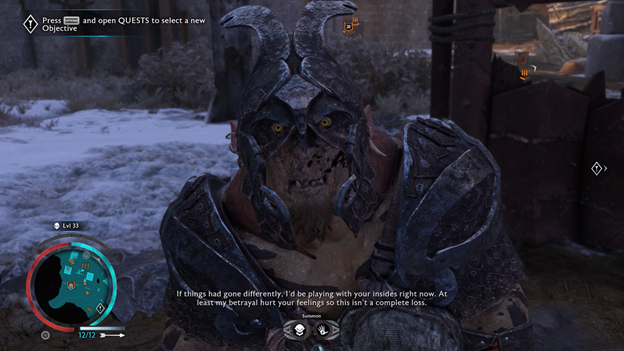 That's just rude.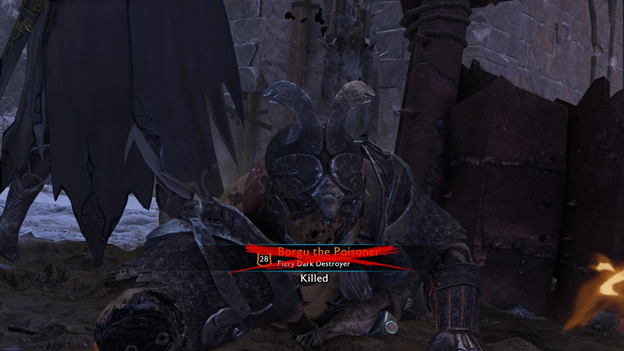 Borgu… we hardly knew thee. His betrayal cost him an arm and a leg, literally. If you are somehow defeated, Borgu will receive a promotion and we'll likely see him again down the line, tougher and meaner than before. The combinations and variations of the Orc Captains you'll face and recruit in Shadow of War are endless, so good luck!
MAP
You can access your Map in-game by selecting the Touch Pad (PS4) or View Button (XB1). When highlighting any of the icons displayed on screen, you can set a Waypoint to easier navigate to that area. Purifying Haedir Towers should be a priority when starting a new region. Doing so will create Fast Travel points and reveal points of interest on the map. Keep in mind you cannot Fast Travel during a fight.


Holding L2 (PS4) or LT (XB1) will also zoom out to see the World Map! From there you can Fast Travel to any other unlocked areas in the world.
MENUS
You'll find options in the pause menu such as:
Army: Displays followers and enemy captains in your current region.
Quests: Your progress in Quests and overall completion.
Character: Assign Skill Points to different traits for Talion. Skill availability will differ depending on your progress. You can also change Skins and view gameplay stats.
Inventory: Equip and manage your gear, as well as activate Challenges to further improve your gear. Skins can also be changed from this menu.
Garrison: Manage your Orc followers, open chests to obtain new followers and gear, assign Training Orders to progress your followers, and activate Spoils of War and Experience boosts.
Online: Earn Spoils of War by participating in Online activities and Missions.
Guide: see below.
Appendices: Review all the lore you've experienced so far in Shadow of War.
Options: Adjust Campaign difficulty, Photo Mode, Display, Sound and control settings or view the Credits!
Quit: Return to the main menu.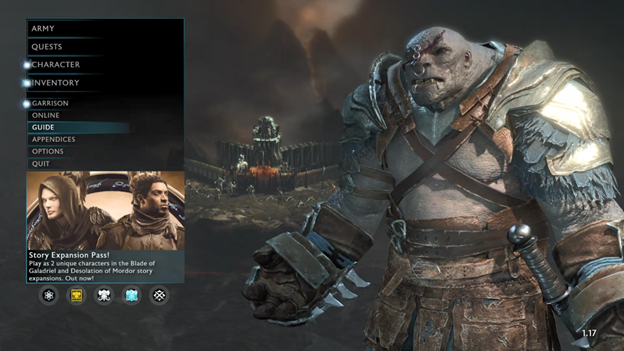 GUIDE: In-game
For more details on gameplay, a Guide is accessible through the pause menu and covers a number of topics:
Combat
Ranged
Stealth
Movement and Mounts
Nemesis
Gear and Collectibles
Map and Menus
Online and Garrison
Legendary Gear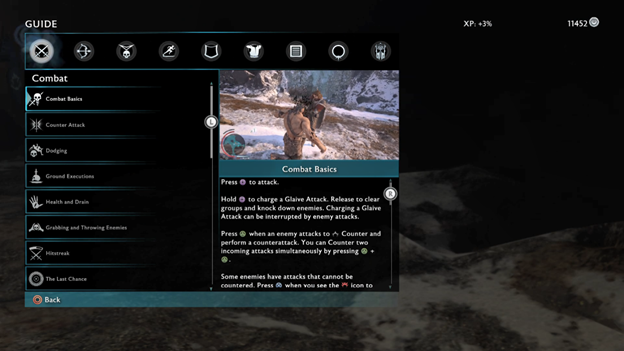 Related Articles